ECHO Perfect 10 Experiential Leadership Training
ECHO Perfect 10 Experiential Leadership Training
ECHO Perfect 10 is a training and experiential learning initiative implemented to prepare high school students and young adults for introduction to workplace culture, nurture interest in a variety of employment opportunities, increase self-confidence and ultimately support successful employment placement.  It is a preparatory employment program comprised of three learning tiers – curricula-based training (Tier I), job shadowing (Tier II) and internships (Tier III), and is available to high school and college students who reside in Fairfield and New Haven counties.  The 10 ECHO core values provide the template for the ECHO Perfect 10 program. 
Employment areas include accounting, banking, business administration, communications, conservation, fire fighters, healthcare, human services, insurance, information technology, law and law enforcement, marketing, risk-management, and youth development.
---
Tier 1
Each year, ECHO Perfect 10 Tier I commences in February and concludes in June, providing over 20 hours of classroom training. It focuses on employability skills and preparatory initiatives through a myriad activities, including presentations, workshops, and interactive sessions.  Training may include assessments of career aptitudes/interests and planning, career awareness, resume writing, interviewing techniques and mock interview training, business etiquette, and self-esteem. 
Tier 2
Tier II job shadowing introduces young people to various career and employment opportunities through in-person interviews, interactions, on-site work observations, and tours. 
Tier 3
Tier III internships provide an opportunity for program participants to gain important work knowledge and a paid hands-on experience in a career-related field. The internships are typically six weeks in duration for 10 hours per week for a total of 60 hours. The program partners with local businesses, organizations, agencies and universities and has internship sites in Bridgeport, Hamden, New Haven, Shelton, and Stratford.
ECHO Perfect 10 Survey   
41 total students participated within the three- tiered approach of ECHO Perfect 10 in 2015.  27 completed Tier I/II.  37 completed Tier III. 
47 total students participated within the three- tiered approach of ECHO Perfect 10 in 2016.  39 completed Tier I/II.  40 completed Tier III.
100% of the seniors participating in the program have graduated from high school.
4 graduated from Career in 2015.  8 graduated from MBA in 2015.  12 graduated from Kolbe in 2015.
2 graduated from Career in 2016.  No seniors participated from MBA in 2016.  5 graduated in 2016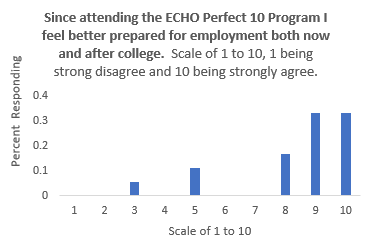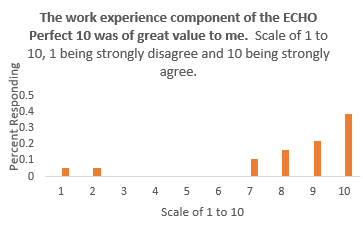 Award Ceremony Video